In India today, small clay cups are used in India for a reasonably sized delicious beverage.
Clay cups are brittle in the size-ways that Americans like to drink their hot beverages. Some kind of reinforcement is needed to keep them durable enough for typical use. One could bake the clay cup to make it more rigid, but that interferes with decomposing quickly.
Current paper cups are sprayed with a plastic liner that is considered inert, but the jury is very much out on that one. Clay presents an ideal material.
Manufacturing the clay cup is cost intensive compared to the paper cup (if you are only accounting for finished paper stock) but the story goes deeper. Once you incorporate the harvesting of trees, the bleaching and heat intensive paper making process, then the health costs from partially toxic plastic liner spray and printing inks, the actual total cost is significantly higher than clay.
Labor remains an issue. Making clay cups by hand is not viable in the numbers required daily in most places. That's where 3D printing comes in. For the cost of electricity, raw materials, and some human supervision, you can make many, many differently designed cups for low cost. Miniscule cost when you account for the lack of needing a mold. Any shape can be produced.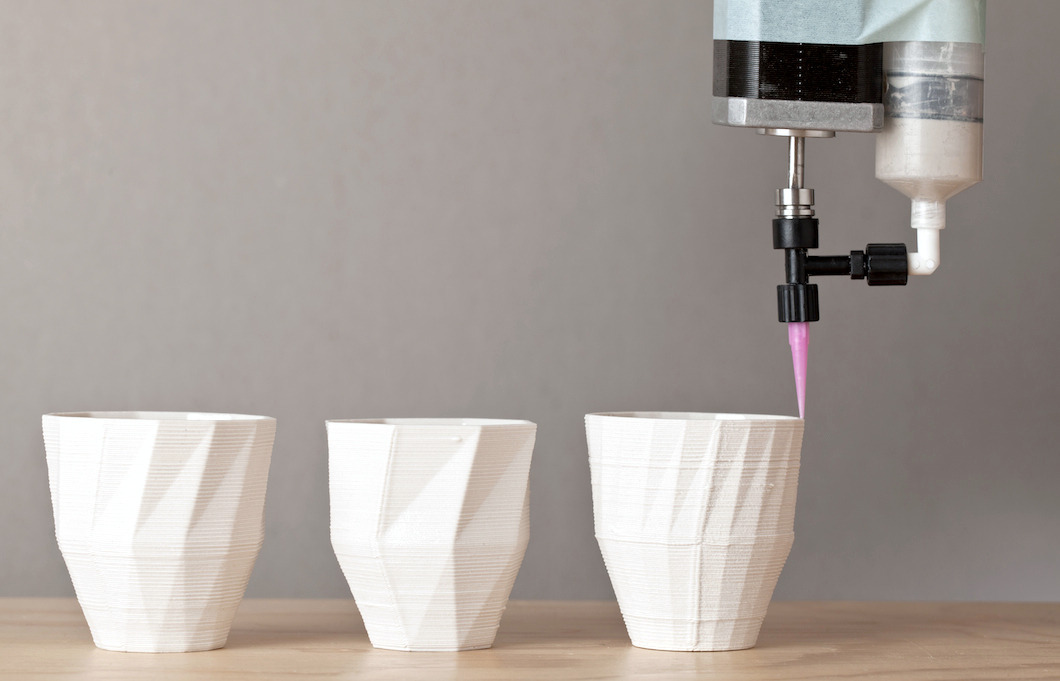 But still higher cost than paper.
So, the premium will be for a -medium use- product. One that can withstand a day at the office and perhaps a refill or two, but is understood to be tossed out whenever one wishes, without fear. The clay can be sterilized for repeat use, which is another benefit. More intricate designs warrant higher cost. Being able to customize one's own shape and design for friends, adds a bit more to the price you can get away with.
Reasonable printers can be had for less than $250 US. That opens up cottage industry printers anywhere. The people printing clay cups could, in about ten minutes, be reconfigured to print plastic, nylon, carbon fiber matrix, metal powder filament, and even wood based materials for anything within the basic envelope. This, of course opens up the whole world of instant manufacturing to whomever is interested in the career of the future.