The world's first solar module for everyone.
The light of the sun is everywhere, it belongs to all, but only a few have the means to transform it into usable energy for our daily life.
SULI is a portable, solar-powered, light module, that will change this reality, democratizing access to light for everybody, empowering people by mixing sustainable solar energy & light with the power of the DIY spirit and the 3D printing world. (It´s PATENT PENDING (2014-001840))
Is portable, multi-functional, and can be adapted to different uses in everyday life through its double fitting: a PET bottle fitting and a 3D printable accessories fitting.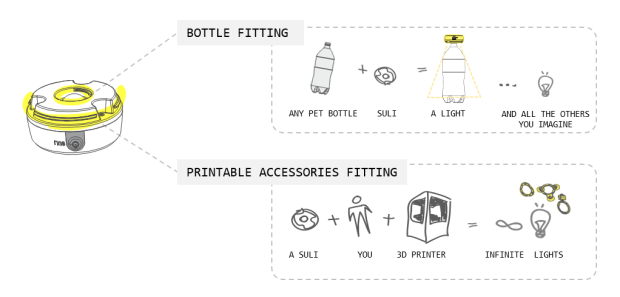 We want to create a SULI community, allowing us to develop new ideas together, through a model open for everybody, where we can inspire creativity and innovation.
This way, every user can be a part of our team - designing, creating, building and sharing new ways to use the SULI light.
We believe that the 3D printing world is the future.
Examples on how it works:
But it's also a great quality lamp!
Our social impact: democratize access to everyday use of renewable energy.
We know that SULI is very useful for people enjoying the great outdoors and looking to shift to a more sustainable lifestyle, but we also believe that SULI can bring high-quality, sustainable light to those who do not have it.
Our first social impact project is to deploy 90 SULI modules in Boutín, Haití, in Central America on 2016, partnering with the NGO AMERICA SOLIDARIA, trough our INDIEGOGO campaign to back our first production (600 SULI's !).
Haití is the poorest country in America and only a few years ago it suffered a devastating earthquake.
SULI so far !
We are proud to be the first chilean B pending certified company, to be part of the AGORA PARTNERSHIPS social impact accelerator and to be supported by the IDB Bank.
We went to SOCAP this year also:
SULI TEAM
Everything start with normal people trying to make something good for the world!
More info:
WHAT DO YOU THINK??
With SULI-LOVE from Chile