When you can have this natural beauty every morning, by simply pouring, who needs latte art?
We are the world's first and only Cold Brewed Espresso for gourmet coffee wherever you and a pocket are.
Getting gourmet coffee has never been this easy. Iced espresso, hot Americano or soy-milk Latte, anyway you want it in under 10 seconds... just add hot or iced, water or milk... no hassle, no waste, no wait.
There's never been a coffee like this! Over 3 years in the making, we needed to reinvent everything (roasting/brewing/packaging)..several times to get here. This brand new approach offers the best of all worlds: the smooth sweetness of cold brew, the fruity 'origin' flavors from hot brewing, the body of espresso, the convenience of instant. Never bitter, acidic or watery.
Our beta users love it: "Delicious", "I could drink this every day", "Like an IV of Caffeine!", "OMG!" Thus our name OMGespresso.
For those on the go, take it straight out of the packet, as all natural fast acting energy shot.
It's fits in a pocket size makes it perfect for trips (TSA approved), camping, hiking, cycling, yoga, workouts. So you always have quality coffee with you, for when you need it most...so you can always be at your most.
Reuse the self addressed mailer to send us back spent ecopackets for proper processing and get a discount on your next order.
You can get yours today here on Etsy.
This is what you can do with it. (2min):
and this is how it arrives (5min):
At OMGespresso/Cloud9 Brewing Systems, we aim to make the best espresso/coffee/spice extracts ever created, as easy as milk to use. By incorporating circular design 2.0 and seven generation sustainability principals, we plan to leave the entire world of coffee better than we found it, so that ALL future generations can have great coffee in their mornings too.
HERE's WHAT WE GOT FOR YOU:
For coffee lovers: we offer the worlds first fresh-roasted cold-brewed ristretto, espresso, enhanced drip, for gourmet coffee wherever you and a pocket are.
Have any drink you want in just seconds, without the hassles and waste traditionally associated with conventional gourmet coffee. Just rip the tip and take a sip, or pour and go.
For coffee resellers: we provide fresh-roasted, cafe class (or better) espresso to anywhere without hassles of owning/leasing/operating a roastery, espresso machine and crew, and gear, freeing up valuable floor and counter space for paying customers.
"Overall, we think this product is great & want more!! :-) If we can offer it Americano to customers in the cold months - and in the warm months as cold brew/ iced coffee - I believe customers will buy!!" - Connie of Long Island Skydiving.
We can eventually do "pay as you go" coffee per ml service, maintaining as a part of the service contract, a simple and durable 'on demand' heater and soda dispenser/mixer for cream, sweetener and flavorings(vanilla, cocoa) and gases for nitrogen/carbonation for any drink. Easily personalizeable, no more sachets for sugar, cream sitting out, stirring straws.
As prebrewed coffee/espresso, heating only needs to be served warm enough to drink (100-120F), so no insulation sleeves are needed, and burning yourself isn't possible. For iced, just take out cubes pour over and done, never diluted.
"I could drink that every day.". - J. Pilant
The rich world of coffee and spices, offers nearly endless variety, allows great pairing with your dishes.
It serves by pumps in seconds, by standard waitstaff to serve those busy morning/lunch lines in almost no time. This makes for happy customers and repeat sales.
FOR THOSE INTO PURE FLAVOR....
"I have no idea what you're doing, but I really like it."- Nate, Master Roaster WCR roasting company.
We've created one of the best coffees ever created, from entirely new evidence backed approaches (roasting/brewing/packaging), ONLY using the highest grade (88+) fresh roasted coffees and purest water.
The best coffee is ONLY coffee and water,... generally the more things needed to make coffee palatable (i.e. cream, sugar, flavor, nitrogen), the worse the coffee actually is, for example the Starbucks Unicorn Frappuchino doesn't even list coffee in the several paragraphs of ingredients!
When you start with Grade A 100% Arabica beans, use low temperature, whole spectrum processing throughout, nothing else is needed. Naturally sweet, means added sugar and cream are optional (though good with!), supporting weight loss goals and crash free productive days.
It's a delicious difference that can be tasted and felt in seconds, so delicious, even people who don't like coffee, have liked our coffee BLACK, which unlike hot brew is also remarkably easy on the stomach.
FOR THOSE INTO PURE PERFORMANCE...
If you're used to the routine of a cafe or fresh grinding, upgrading to getting any gourmet coffee drink you want in 10 seconds or less at home as easy as milk, means you're freed up from gourmet coffee hassles. This extra time might allow you more me time, bit more time in the shower, get a quick workout in, or get ahead start on the hellish morning commute.
"Wow...like an mainline IV of caffeine" S. Higuchi, Designer

"felt it as soon as it hit the back of my throat" -J. Caretti, Plant manager
Our OMGespresso and OMGlatte offers the alertness effect comparable to an energy shot, but made with only natural coffee and water, you'll never have to read a label or wonder about is inside ever again.
"The buzz was very clean and uplifting without any of the usual belly feelings I have come to accept with coffee drinking. Very pleasant " J. Pilant
By using pure Arabica beans vs cheaper Robusta, it's uplifing, hyper if too much but not jittery, with a gentle decline that fades out. It's naturally low calorie, and with splash of whipping cream (better tasting than Bulletproof's butter in our tests), fits into most healthy diets.
For those wanting latte like experience, or on special diets: Paleo/no sugar, or non-dairy/vegan we also offer a novel fullfat non-dairy milk, made with flavorless coconut oil (MCT), a dash of agave and sea salt that really makes the coffee delicious, even savory, and also supports low glycemic diet and weight loss goals. We call it NomNomilk.
FOR THOSE INTO VARIETY...
Get to know the vibrant world of 'specialty' coffee. Nearly endless variety from different parts of the world, different coffee species, different seasons, different processing methods, all creating dramatic impact on what ends up in your cup.
"Tried one of the Geshas today. Was amazingly tannic. I (and the coffee industry in general) generally associate tea quantities to Gesha but this was fascinating" - J Caretti, Plant Manager
The above chart is the SCA's 'tasting wheel' showing all the common coffee natural flavors. Coffee as a superfrui can taste like most any other fruit. If you look you can find pretty much every fruit flavor. Some flavors you might want every day: canned peaches in syrup, tart raspberries, some more exotic just for special occasions: sweet tobacco and cocoa (great in cocktails with an smokey tequila).
Unlike conventional approaches, we aren't limited in what we produce, so mix and match your order for a week of maximum enjoyment.
Burundi on Monday (coffee candies, hint of raisin, wisp of cocoa, barley)
Tanzanian peaberries Tuesdays (light brown sugar, baker cocoa, grapes)
Wet processed Columbian Wednesdays (clean sweetness, juicy acidity)
Thai Thursdays (lemon grass, red wine, black currant)
Fruity Natural Processed Ethiopian Friday, (sweet, stone fruit, berry, floral)
El Savadorian on Saturday (maple, creamy nut tones, brown sugar)
Sumatran on Sunday (malt syrup, mossy, sweet herbs, chicory, winey berry)
All are available in roasts: light (shown above), medium, dark, and our novel Gradiant roasting tech that combines that combines them all for the full range of coffee flavors possible.
The ristretto was really nice mix of true ristretto darker qualities with other characters I associate with comparatively light roasting - J. Caretti
All roasts available in ristretto, espresso, drip++ or OMGlatte (our full fat non-diary MCT based milk). In future we can even do equally epic cold brew espresso liquor.
Plus add in pairable spices (cold-brewed single-origin: vanillas, cacaos, cinnamon, fresh lavender...) you never have to have the same coffee twice, unless you want to.
There's really no limits, specialty coffee can get pretty exotic: Ninetyplus's Kemjin is like
"black cherry meets, lychee, splash of dragon fruit and jasmine, strong black tea astringency and dark chocolate powder bite, wisps of cinnamon, crisp green beans/lima bean, bbq grilled buttered jalaepeno peppers, liquorish." -Me yesterday.
Part of the fun game in tasting it is to figure out what if anything as a box can be used to store the memory of where it goes. Like the above shows sometimes it's entirely it's own thing, a mix of everything and nothing like anything. I frequently taste amazing things I never have before in my life, and as these crops have good year and bad, may never taste again. We spend so much of our life in pursuit of new and amazing experiences, and here the can be a daily experience for anyone ..without needing or going anywhere but your fridge.
Welcome to the bold new world of "Taste Tourism", the best coffee and pairings from all around the world, direct to you, in the comfort of your home, on your schedule.
FOR THOSE INTO CONVENIENCE..
Want Fresh Coffee ASAP? No need to get dressed, just open the fridge, it's right next to the milk, even grab both with one hand. Then just pour and go into your favorite cup(s)..
Getting it is equally simple, order online what you want, mix and match. It's made fresh to order, and arrive at your mailbox in a couple days, direct from the brewery.
Ecopackets and spoutbags keep fresh in the fridge for months and freezer indefinitely, so you always have fresh coffee to spare, great when company comes over.
The ecopackets fit into your life, grab a handful for the road/gym, they maintain their cold brew flavor for a week or 2 without refrigeration, plenty for most trips.
Mail back the spent ecopackets in the included self addressed mailer, for a credit on your next order, we will ensure they get processed appropriately to avoid landfill and support the circular economy.
So convenient, you can even get gourmet fresh coffee with only one hand..(1min):
Which means it's great for people limited hand use, who find screw off caps difficult. Perfect for injured (RSI), arthritis, or silver tsunami, hospice care on fixed income with limited mobility who can't leave home, but still deserve great coffee. Great coffee belongs to us all.
You can get yours today here on Etsy.
FOR THOSE INTO ECOFRIENDLY / CIRCULAR DESIGN, Coffee 3.0.
Coffee is MASSIVE industry, as a commodity traded around $19 Billion/annually. At the retail level Starbucks is potentially the 5th Trillion dollar company behind Apple/Alphabet/Amazon/Facebook, and they are just one of the many big coffee companies (Blue Bottle, Coffee Bean and Tea Leaf), inside even bigger caffeinated drink companies (Coca Cola, Red Bull, Monster Energy, Five Hour Energy).
In an increasingly alert, always on information based society, caffeine is as important to moving minds, as gas is to moving cars. Even positions like surgery, firefighting, pro sports, depend heavily on caffeine as a source of alertness, of which coffee is one of the most popular, healthy and sustainable sources of it.
Over 2.25 billion cups of coffee are consumed in the world every day. Making coffee one of the more important commodities to daily life for now and the forseeable future, and sadly the problems with it also going into the foreseeable future.
THE ECOPROBLEM WITH CURRENT COFFEE
Coffee's amazing popularity, has a dark side that stems from dark ages level of production. Every year, coffee consumption generates 100+ millions of pounds of coffee waste in single-use consumables/materials like: paper cups, lids, insulation sleeves, stirrers, sachets for sugar, filters. Some of it like k-cups/pods cannot be practically recycled with current or anticipated technology.
It's so well ingrained to throw these away, most don't think about it at all, take a walk by any cafe on a busy day, looks something like this:

Paper cups, plastic lids and straws, needing separation for recycling, often these unfortunately end up in already overflowing landfill, like this.
Coffee's global popularity, means sadly these horrible scenes can be found everywhere across the world.
Part of the problem is coffee production and consumption are many separate siloed businesses, in a linear one-way flow from coffee farmer to importer to roaster to brewer to distribution to retail to coffee consumer. Each dependent on single-use and linear extractive thinking (stripmine->transient treadmill->landfill) that can't be sustained forever.
As true in many other areas that benefit from circular thinking, reduce and speedup cleanup, isn't enough.
2.5 billion cups of coffee (and all related parts) a day. Take any entry in this contest around drinks and multiply their approach at billions a day, to see the stresses on the system. Where do the sources to make those come from? where does it go once done? How long does it take to make the source, how long does it stay there. Imagine dumping billion of cups made of sugar or starch (aka biodegradeable) anywhere, what could happen? There are bound to be unintended side effects (algae blooms, pests, mold/mycotoxins, hitting water supply, ocean). Tech to reduce plastic is exciting (e.g. pyrowave), but it isn't widespread in use, takes significant resources to run, and output products that don't fit back into the cycle cleanly.
For servicing the tens of billions of people expected in the next decades, the world's favorite drink, it simply won't do anymore. The problem need to be completely rethought...circular style.
OMGESPRESOO is COFFEE 3.0
and is CIRCULAR ECONOMY 2.0 and SEVEN GENERATION SUSTAINABLE compatible.
OMGespresso's unique comprehensive approach to gourmet coffee, is extremely efficient from start to finish and back again, completely eliminating the common single-use problems in conventional coffee like:
NO heavy glass or aluminum bottles in RTD (ready to drink), in different sizes for different packages/content.
NO bottle caps, straws, stir sticks
NO paper cups, insulated sleeves, lids.
NO single use paper filters typical
NO coffee grounds ending up in landfill
NO unreuseable unrecyclable or uncompostable single-serve k-cup/pods
NO related by the case packaging
NO limited life coffee pots that are usually headed to landfilled and often prematurely there from hard water scaling.
NO limited life and pricey pod systems, espresso machines taking up valuable counter or real estate space.
NO milk and sugar required, to be palletable, supporting optima health goals (and reducing related production/packaging)
NO multiple silos, that need shipping/boxing between, e.g. green is shipped to roaster, roaster shipped to brewer, brewer shipped to bottling plant, bottling plant shipped to retail, retail shipped to you.
NO extractionistic practices.
Many of the above are delivered in single use, bulk packaging, padding, labeling, printed manuals, that need separate raw stock, shipping (gas/vehicles/maintenance) to/from separate factories (bottling plant, box making factory), and also often end up in a landfill.
At OMGespresso, We can do better, MUCH better...
Our solution provides a seven generation sustainable solution to Coffee:
we offer coffee lovers one of the most cost/time efficient was to get fresh roasted quality espresso/coffee, carriable in a pocket or daybag, just seconds to pour or sip.
we ensure spent grounds make it to back to compost, or biofuel better completing the nutrient loop.
we do not use ANY: single use, metal, plastic or paper filters used everywhere else, yet get ultra smooth filtration.
we use a simple, all recyclable brewer (mostly inert glass)
all inputs and outputs to brewery/packaging are flat pack, and in roll to roll easy to cut to size as needed.
simple, lightweight ecopacket has much less material costs than even a coffee bag used to ship the green/roasted coffee, OR the bottles/cans/cups.
we do everything in the same place, take green coffee, roast/brew/package, ship direct avoiding repackaging, redistribution, shelf life (needing preservatives) and refrigeration.
only we are quite possibly the most efficient extraction system created, for a given amount of coffee input we get more usable coffee out than existing approaches
we have data center like scalability, and thus can highly leverage economies of scale to drive the cost down further
we have global reach so can put the brewery roastery in less expensive locations and use 'heartland workers' given less options with cities consuming all the jobs.
we reinvest profits back into the only 2 parts the business can't do without, farmers and consumers.
we prioritize sustainability over excess profitability.
At scale of billions of people over decades, the benefits of this approach are hard to fathom in relationship to the 100's of millions of pounds of landfill/recyclable waste currently generated by conventional coffee a year. In a rare right, faster, cheaper.. we do a significantly better job with significantly less.
LET's TAKE A DEEPER LOOK AT THE OMGespresso diffeRenCE....
Starting at the Farm,
Coffee farms grow coffee shrub covered with cherries that contain coffee seeds (which we call beans).
For flavor they are graded on a standard 100pt scale, where higher score is more desired (sweeter better flavor) and much less is produced. Conventional grown coffee is around 72-80 points or ends up that way by the time you actually get to brewing them. Given that's mediocrity is so ubiquitous, it's entirely possible you've never had high grade coffees.
As we only want to taste and feel the best, we use the best, 88 point and higher coffees, as in exhaustive testing, it's the only way to get that OMG! like experience and well worth the moderate cost difference.
How good it scores, is directly related to how well the coffee plant is grown is directly related to how healthy the forest is. So organically slow growing coffee, in coffee's preferred habitats, results in healthier plants, who are naturally less disease and pest prone, require less no chemicals and costs less, taste and feel way better and can be sold for WAY more (<$2/lb to $15/lb to sometimes >$40/lb).
When asked about why he decided to take the deep dive into high grade coffee farming.
"I'll pay $.50 to $1.00 more for a cup that I love better, especially if I know it's coming from a place where farm is being transformed with... nature"- Joseph founder of award winning http://ninetypluscoffee.com



Given the rareness of great coffee in the market, higher quality coffee can always be sold for significantly more than conventional grown, and then get farmers paid significantly more.
Farmers and their families and communities, can really benefit from this.
It's little known but as Coffee is a seasonal crop in the tropics with few harvests a year, many Coffee farmers are at poverty line for parts of the year so even a small amount of money can make huge differences. Sustained long term this can keep multi-generation farmers still farming, and families together, as presently many of the kids go off to the city for "better" opportunities.
Conventional coffee is shipped long distances (overseas typically) in big "grain pro" single use bags, in a green state from to the store house and eventually Roastery. If the bags are not sealed the "terrior" goes stale, and coffee loses it's flavor or can actually grow mold. Most of this mass is just heavy cellulose that will eventually be discarded (spent grounds) often in landfill thousands of miles away.
At OMGespresso, we can eventually partner or buy the farms and put the solar powered microroastery/microbrewery near or on site so that these steps and risks are greatly if not completely eliminated, reconnecting the spent grounds into compost, right back at the farm, reconnecting the nutrient cycle.
For one of the first times in history, as 90 plus coffee says, "we can leave coffee better than we found it". By closing this end of loop, and promoting farmers to co-op partners, and a mild amount of money reinvested into the education and architectures, a 75 point (C-grade) coffee at start can turn into 85 points or higher, from producing flavors more desired vs less, and in a decade doing breeding/wildcrafting, disease resistance can go up, and water use go down. By adding in training and integrated testing to ensure soil and bean we can close the nutrient cycle, replenishing soil losses, even rebuilding soil, this could reduce fertilizer use completely. By selling higher grade coffee less needs to be produced per acre of forest, which supports a natural diversity, and over time forests can be rebuilt, wildlife returns, forest harmony is restored.
In this approach we ALL win and NOONE loses, and it gets better with time, a legacy of rich soil, sustainable forest husbandry, and a better cup of coffee for everybody morning, as a legacy to pass from generation to generation.
This is not actually that hard as it might seem, like in that picture above many farmers are stuck in colonial times, with no understanding of which fertilizer to do when, and many not even using basic irrigation. Easily solvable with modernizing, testing, basic education...caring. Certainly in a trillion dollar market not that much to ask, given how much benefit coffee brings to us all.
At the Roastery,
Conventionally, most are roasted in "dark roast" where they lose 25% of their mass in the process, and this tends to be monochromatic, just one flavor at a time (e.g. dark roast).
At OMGespresso, Our unique Gradiant roasting approach preserves more mass and nutrient integrity and variety, and configurable spectrum ranges of roasting (e.g. light through medium-dark), so vastly more fresh fuller flavors ends up in the cup.
Conventionally roasted coffee once cooled, is then put into yet another printed metallized single use valve bag (that's hard to recycle) to go through yet another complicated transportation/distribution/storage change.
At OMGespresso as we brew immediately after roasting, we don't need any of these.
Roasted Coffee is very similar to fresh baked bread in that it never gets any better than close to right out of the oven, and if left out by day 3, it's gone past the "crouton threshold". In conventional coffee, a survey I did of Target retail store I had found bags of roasted coffee that had been on the shelf for 3..even 6 months! Would you ever want a loaf of bread 6 months old?!?
At OMGespresso we brew the same day we roast for maximum freshness, and that freshness is sealed in to what we send you.
At the Brewery: Conventional brewing degrades the sensitive coffee (which behaves like a cut fruit going bad/sour/bitter) thus needing milk and sugar to cover up the damage and be palatable (which both have significant production and packaging costs of their own).
Half the world coffee ends up as instant, which is even worse tasting and feeling completely stripped of the fresh aromatics and micronutrients that give that fresh flavor we enjoy most from a cafe.
Cold brew while increasingly popular tends to miss the fruit-like acidity in hot brew, and the body of espresso that pairs so well with milk drinks we love.
OMGespresso has it all, the elevated caffeine and smoothness of cold brew, the fruit forwardness of hot brew, and the body of espresso, that fully makes all roasts from light to dark delicious and balanced. It pairs beautifully with real or nondairy milk.
COFFEE FILTERS
Almost all brewing method (e.g drip, pour over, cold brew) depend on single use disposable filters that end up in the landfill or metal filters that alter the flavor and collect rancid oils, and need special cleansers.
OMGespresso uses a chemically inert indefinitely reusable filter, that lets coffee's natural oils pass, but as you can see above, can still produce a clear silky smooth cup.
SPENT GROUNDS REUSE
Once filtered, most homes and cafes toss spent grounds into a landfill, thousands of miles from the farm.
At Cloud9 central or farm attached microroaster/brewery with our novel filtration, it outputs clean coffee grounds suitable for compost or biofuel, spent grounds never leave the brewery to farm cycle.
GRIND SIZE
Grind size matters at scale, for a given amount of coffee, how much useable drink we get out is related to grind size.
Most conventional brewing (coffee pot/pour over) use a medium to coarse grind which is less efficient than fine ground. Meaning for all the work to get here, the coarser ground lock-boxes in the compounds we want and then they are thrown out, put into the landfill.
Cold brew typically is coarse ground, so particularly not efficient to use at scale at billions.
ESPRESSO AND POD MACHINES
Fine ground is more efficient, but typically requires precise high pressure and heat approaches..which requires complicated metal plumbing gear (aka "espresso machine" that requires ugly maintenance...
Conventional espresso machines run $5k to $50K each, made by for-profit/investor backed companies, like the auto industry they frequently deprecate old models and parts, in favor of pushing new ones leading to heavy metal landfill, to have something to sell. Tens of thousand of cafes exist in the USA alone, each having one or multiple of these machines.
OMGespresso's novel Chromatibrew approach (the first significant advance in brewing since the espresso machine) is inspired by biomimicry, results in very low in power, needs nopaper/metal filters, outputs dense concentrates needing minimal packaging, and significantly more of output than conventional espresso machines and pourovers, for a given amount of coffee, all while using substantially less gear, and what gear is there is 100% easily recyclable being mostly glass.
At a CAFE: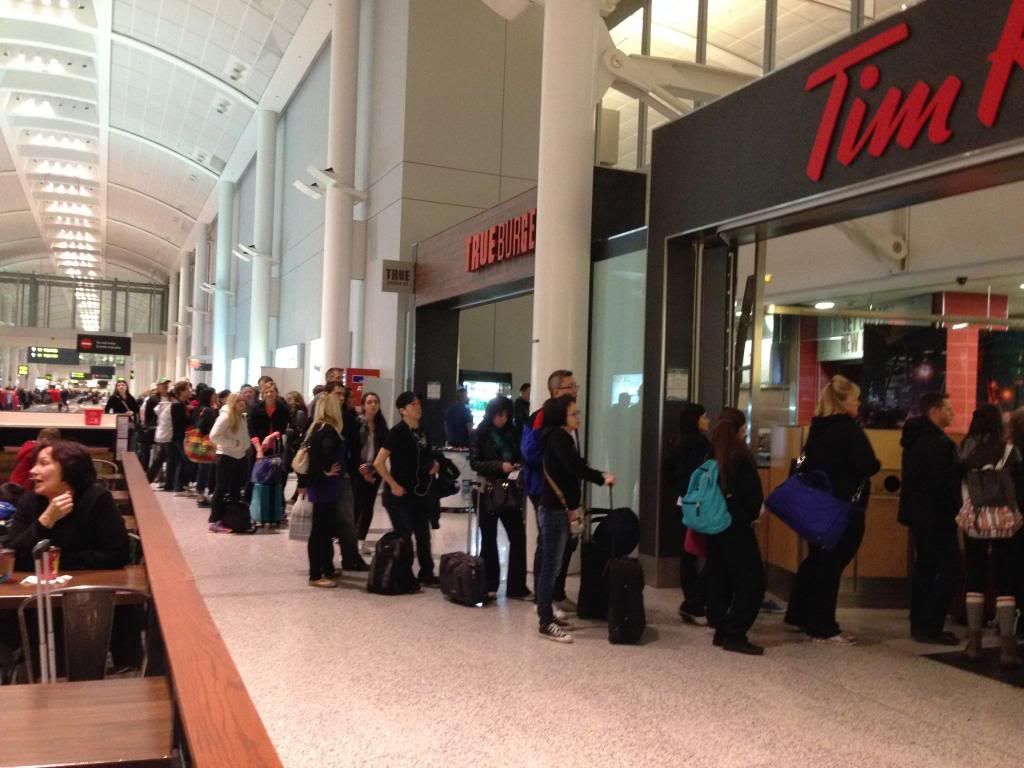 Operating these espresso machines well enough to pull a "god shot" is almost a dark art, not to far away from monks of old, hand producing books one letter at a time, causing under load long lines of people standing waiting multiple times (to order, to get the drink, hopefully find a seat).
At one point this hassle was also true for soda, but now with self-serve soda machines everywhere ..that would seem ludicrous today. Anybody can operate a soda dispenser and there's no special titles or training past the first simple time shown. It's high time, quality espresso got this upgrade too, as like those people above, we all have places we'd rather be...
Serving OMGepresso is as fast as a Torani pump, 1 pump coffee, 1 pump cream, 1 pump of hot or iced water. Done. Next please.
AT HOME: Since going to a cafe is a expensive hassle, we've seen an explosion in home appliances, from $6K fully automatic espresso machines to the $80-200 present K-cup/pod/nespresso systems, all taken up the limited counter space.
These appliances too are built for profit, typically only last a few years, and mostly end up in a landfill. As intelligent devices, controlling steam pressure and temperature precisely over time, they are made like computers, a mix of electronics, different metals and plastics tightly integrated, and are difficult to recycle/remake as there's no incentive too.
At OMGespresso, if you want hot espresso/coffee, you don't need a special machine, just a source to heat water or milk (microwave, stove, electric kettle, fire) which you likely already have, iced coffee is even easier, just pour over ice cubes.
At the Bottling Plant
Instant is stored in single use aluminized sachets, complicated to recycle.
If headed to retail "ready to drink" it ends up in aluminum cans and heavy glass bottles which requires further distribution to and from the can/bottle making plant (separate bottles+caps and cans+6 rings mostly single-use and separate materials, big boxes) and transport to the actual bottling plant and then to multiple distribution centers before they finally get to the stores.
OMGepresso makes ecopacket and flavorbook containers from roll stock on demand, directly at, and ships direct from the central plant, eliminating all those. Made to size (e.g. single vs double shot), eventually via commodity 3d printer/cnc for cutting. For labeling even heat emboss/etching, eliminating chemical ink/prints and printers.
THE SPECIAL PROBLEMS WITH POD SYSTEMS
Pod systems are a perfect example of a popular profitable but horribly shortsighted stripmine->treadmill of transience->landfill linear economy that is unsustainable at global scales of Billions.
The k-cups/pod systems while better coffee quality than an old coffee pot, aren't anywhere near as good as a cafe.
OMGespresso beats both in our testing, on all metrics (flavor, effect, volume out)
Each single-use pod is an mini eco-disaster, made of a half dozen materials (foil, paint, glue, paper, plastic, spent grounds ) that are unreasonable to recycle by any current or anticipated means. These are so offensive to waste management, they are banned in some areas.
Pod waste is a HUGE and GROWING landfill problem, last year alone...
nine billion K-cups were sold by Keurig, enough to circle the globe 7 times around, and created 90 million pounds of landfill waste! and that's just one of the pod makers.
and it's getting worse as a category, pod systems are quickly growing, soon to surpass regular and instant coffee. In the world population 7.5 billions of people we have is also quickly growing. Doubly whammy, faster we reach the dead end.
Clearly if we want to have coffee in the future, we need to do something different thus a few years ago we started to created OMGepresso, which is in Beta and available today.
OMGespresso's ecopackets are 1 simple easy to reclaim/remake material (vs 6 different), that in addition, is reused across different products and different sizes, for "what you see is what you get", plus each is made with less material than typically in a coffee lid (!).
It's convenient 'rip tip and sip' can be sipped straight with no extra parts ( cap/straw/insulator) and stays together through it's lifecycle. Closing is as easy as folding and using a common binder clip.
With it's flexible flatpacking nature, we can affordably have mailed back or eventually collected by milkman like service for zero waste, as thermoplastics, we can easily clean or if necessary, shred, melt and remake these.
Even if single use pods or ecopackets were biodegradeable, it's still better to collect and remake as anything with tons of sugars/starches etc dumped into an environment is a bioload that can have unintended consequences, e.g. algae blooms starving out oxygen, mold eventually spreading potent mycotoxins, or allergens.
Products to People – Reimagine Delivery Models
In a proven model similar to Splosh, just applied to coffee, where you use your own (favorite) cup, and Netflix like in that the envelope goes round trip repeatedly, carrying the concentrated sachets around normal life, and send back empty ones back for reprocessing.
With ecopacket's durability and flexibility, they cost dramatically less to ship around vs the conventional glass or aluminum bottles needing cushioning or insulation, and avoid heavy boxes + refrigeration packs needed for most fragile cold brew.
We fit 3 double shot servings into a first class postage stamp, standard post office machinable envelope. It's so strong it can even be stepped on without leaking. Dozens of empty ones can be sent back, which even without incentization is understood to be the right path.
My co-worker Judy really enjoyed your coffee and wanted to relay her appreciation, I told her the bag is reusable, but she had already tossed it--sorry! She promises to recycle in the future.
Which gives us confidence that time, and a little incentizing, this is a viable closed circular loop, people can get used too.
Here's how it will work:
1) First you order online, mix and match via a online cafe like vending machine interface.
2) A few days later your order arrives in your letterbox. Like Netflix we use roundtrip reuseable mailer. Inside you'll find your order, packaged in spout bags or ecopackets, each containing concentrated coffee ...for you to add water, milk, heat and ice. As these are ubiquitous, easy to add, there's no need to for us to ship water or milk around.
3) During daily life, you take out whatever you need, use them as normal (shown in the first video adding water/milk at temp). The ecopackets are easy to squeeze or suckout clean or binder clip fold and reclose in a minimum of space.
4) Eventually when back home/office, put spent back in that Netflix like mailer, knowing you get a discount based on many ecopackets you returned, and possibly even a social media scoreboard/badges system, to help incentivize the action.
5) When ready to send back, change mailer flap to show return address put back in the mail.
6) We get the it back at the brewery, count the turn, credit your account for the returns. Then process packets appropriately (composting, recycling or remaking, cleaning + refilling),
7) Next we refill the mailer with your next order, change the flap back to your address and mail back.
Rinse and repeat, with typically 2 of these in flight so you're never run out.
Given the light use and durability of Mylar/Tyvek these might be good for dozens even a hundred of these round trips. They cost just pennies. So costs almost nothing per use, making sound financial sense for the business to choose this approach.
Eventually when they wear out, as they are both simple single water resistant, thermoplastic material for easy in house recycling/remaking so nothing ever hits the environment in unintended way and by having all this happen under one roof, less external steps needing extra shipping and boxing.
Recycling/remaking is also easier.
As we know our own (and what we own), and Coffee/spices are all water/alcohol soluble, with proper design and labeling of the bladder/liners, rinse+refill remake or recycle are all realistic options as needed thus eliminating non-recyclable small-format plastics waste is completely realistic
When recycling is less practical, selling on beaches, hikes into the grand canyon, etc, we can sell only short lifed, biodegradable/compostables biofilms.
This is important to avoid this.
This poor kid, is collecting straws from floating plastic (yes there's water underneath), as they are the only thing there that has value (!?!)
With our durable reuseable multiple times ecopackets and mylar spout bags for day to day, and Tyvek mailer between home and brewery with an incentivized credit for mailback, they help reform user behavior, to form a daisy like nested circular flows, so they never leave the safety of the circles to end up in the wild.
Given the low cost of production and high perceived value of gourmet coffee, with healthy financial returns expected given our largely low powered automated production, we can eventually use other reclamation programs.
For example in places without mail, we can use an Indian milkmen like approach, where a paid employee (like the boy above on moped/bicycle) goes around on a route and refills/collects appropriately back to a central recyclery which might just wash out, and compact down into a cube for sending back to the main factory for full remaking.
If we got good at that, there are technical solutions for handling mixed plastic not created by us, but as it's not currently profitable, no profit driving company will tackle it, this is why we need something like coffee as an enabler to fund initiatives that need to be done that are traditionally unfundable to restore the balance. FYI This philanthropy model already exists today, the billion dollar 5hr energy company are funding water, energy, health products with significant world impact, actually in production.
IT GETS EVEN BETTER OVER TIME...
With all the fancy smart phones and self driving cars, isn't it time our Mornings got an upgrade? Mornings 2.0?
Over time as we learn together what you like and not, you'll eventually never have a cup of coffee you don't like, you'll always be notified when new coffees you might like are in (like fresh fruit they are seasonal)
For easier serving hot/cold, so you never have to manually add cream and sugar the way you like it, we have designs for a simple robobarista as easy to use as a soda dispenser maintained by the service so you never have to worry about the gear breaking down.
For home, add in some simple sensing and an Amazon "Dash" like button can have autoorder/refill for zero click coffee,
It could easily be paired with an app, to inform, play personalized games integrated with, like quiz on your tasting skills (to develop your senses) against an unknown coffee.
Or with accompanying videos, take you on a world tour, to teach you about the people, processes and farms that make the flavors you are experiencing. Experience and learn something new everyday.
For office imagine a meeting of the future, forward a list of attendees and room, and with a single click have everbody's favorite drinks rendered and delivered by drone to the meeting room just in time, with an invoice sent to accounting again maintained by the service.
For food trucks, cafes, conference coffee, we will substantial discounted refills depending on degree of eco-friendly/circularity:
If you come with no cup, you "rent a glass" per session, e.g. 1st refill+ glass, extra refills at a discount, you get credited when you return the cup (like old VHS/book/DVD movie rentals)
If you come with a cup (your own favorite or the rental), you get it at the extra refill discounted cost, less if you're a member and commit to a regular quantity/mo across any context we can reach: away from home/office/at home/on the go (gym, vacation)
If you want it to go, you have to get either the self destructing version which will quickly degrade in environment (e.g. weeks) or the refillable durable 'hydration pack'.

Perhaps with globally roving preferences profiles, so that whatever cafe you go into wherever you are, your favorite drink or closest to it they have, will be ordered no questions asked.
With a bit of R+D, new membrane filtration technology can increase concentrate density, further reducing packaging and shipping costs, while preserving the fresh flavor and further extending shelf life.
The amount of coffee super concentrate a person needs week without milk or water is quite small actually, like 1/8 cup a week that could fit into a case like this:
Such elegant looking, durable containers people would be proud to carry, and would greatly increase the reuse before recycle/remake. They could even fit on a keychain.
Plus fun! imagine if an Ipod/dock/Itunes existed for a playlist of coffees for your week, teaching you how to taste like a pro one coffee at a time with accompanied interactives, or give a world tour of a region of coffee.
CAFE 3.0
Imagine a world where every place soda currently is, has the ability to make any coffee drink you can want, at beyond the quality of what is currently done by any method by hand, or machine. How might that change the world relationship with coffee? or yours.
Imagine a cafe of the future, with soda like dispenser on a wall, that serves any drink as soon you put a cup under it. It can be operated by either you or the host/hostess, like a soda dispensor.
Looking around, unlike the cafes of today.
no space needed for huge bags of green coffee
no steampunk like roasters and brewers
service island is gone, this substantial space can entirely go to having more paying customers
With less non-customer facing crew and gear, business is easier there's less things to deal with, better profitability, less hassle and more time for other things that never quite make it onto the to-do list, like getting to know your customers and staff better.
Freed up from drink production, cafe staff can focus on better (and often currently entirely missing/sucking) hospitality inside and outside, like knowing regular customers by name, their favorite dishes, even based on what mood they are in, their favorite spot in the store by the window, or the big cushy chair, perhaps even reserving it when they know your likely to be in. Being good hosts are real relationship, that every tribe and community should feel like.
I'm sure we all have met those amazing people who instantly make us feel welcome and a part of the family even if we've never met them before. They know more about everyone who comes in to their store/hotel, and their lives, often enjoy matchmaking, who else in the cafe they should really meet. Always knowing who needs and has what: Dog walking, piano teaching in the area, a spare room, an epic baklava recipe, brand new TED talk/book they need to try, that would fix an aspect of their community. Or just to make you some space for some alone time and a good book. This is how cafes used to work when tea and coffee started becoming part of European culture (not that long ago!), these new cafes were hubs of the community, thriving meeting houses to discuss the issues of the day, tech wasn't distracting ...cafes weren't a second isolated office to get more work done highly caffeinated.
It's counter intuitive given coffee/cafe's ubiquity that what we have was never designed, and never looked at from a species to species sustainable relationship, at billions of people x seven generations, as we have. What we currently have is a Rube-Goldberg machine, that we are too immersed in to realize it's wasteful ludicrousness. It's sadly, was a hand me down that were good enough to meet the needs of just the next step, during the unpredictable rapid growth of our cities, growing far beyond our expectations (e.g. rush hour traffic, people who can't afford to move). But know we do know things need to be better.
Part of the reason that what we have exists is with the rise of complicated espresso machines, that needed talented operators, were the only way to produce quickily a fresh tasty, highly caffeinated and high calorie milky drink, people benefited more than watery weak drip, and thus paid way more for.
So then cafes that had espresso, put the cafes only serving drip out of business. So these finicky contraption machines became necessary to exist at all, in a competitive marketplace. Then to power franchises like Starbucks, it was further enshrined as a convention to the point it's frequently never questioned...till now.
ENTIRE NEW TERRITORIES with AMAZING SYNERGIES
Our brewer/roaster/packaging Nature inspired design is remarkable, extremely low power and efficient with a fraction of the consumables in most cafes/breweries.
Our roastery/brewery is highly scalable inspired by data center scales and space utilization, serviced by commodity automation in drone/3dprinting/CNC, running 24/7 with high uptime. Kinda like AWS but rendering drinks instead of websites in equally highly automated and personalized fashion. Just like most the internet is mostly a handful of data centers. A bit like big beer brewerys do, but adapted to coffee/spices we easily could do all the coffee/spices in the entire world in a couple locations.
Our novel "Chromatibrew" biomimcry approach works on many organics dried and fresh (e.g. vanilla, cocoa, lavender, turmeric, chanca piedra, knotweed) and many solvents (water, alcohol, glycerine) on substantially shared infrastructure, diversifying the business risk and helping more farmers/industries. Besides, what could go better with coffee than vanilla, cacao, cinnamon, lavender...?
Also many ancient spices have medicinal use important on their own right. For example Turmeric, Knotweed and Lavender are a potent antibiotic/antifungal which as conventional pharmaceutical antibacterials start to grow ineffectual will be increasingly important. That even helped me battle an complicated deep infection that western medicine could not address.
By refocusing on sustainability and reinvesting profits into better farming and breeding of those spices too. Across the board better breeding can mean better pest/disease resistance, lower water utilization, specific desirable flavors that sell better, and all get paid more, with less costs. Again, we all win, no one loses.
While existing coffee and spice companies could do better, as profit/investor focused sadly aren't solving this well despite having the means too....Starbucks spent more money on employee benefits than it did on coffee for the last several years. So someone needs to step in so we can have all these timeless plants we've had as close friends of our species since the dawn of man.
Finally closing all the loops talked about above, we approach the minimal energy state of this problem space given the technology limits, and can be easily extended to other drink/food. It's circular nature can be looped indefinitely.
If we get there, eventually our goal is "perfect average day" of all basic commodities (food, drink, shelter) under similar safe sustainable circular vs extractive linear models, to help stabilize our food supply and economies in increasingly turbulent times (ai + automation impact on society). If they always have the basics, the chance for peace and focus on bringing sustainability over excess profitability, and prioritizing life over dead things can literally change the entire world. That's something I think we can all drink too.
For a full view of that "Perfect Average Day" bigger mission read here:
ClouD9 THE COMPANY BEHIND
Cloud9 is the parent company, that acts a network of microroasters/microbrewers/retail so we can avoid unnecessary shipping and fuel use from breweries to end destinations, especially as we scale internationally.
Cloud9 is one of the first Seven Generation Sustainable 2.0 business architectures, with for profit on the outside to fund the ongoing development, and profit sharing on the membership/coop inside and the membership based service keystoned costs, exceptionally low by leveraging science and technology advances (automation, AI, commodity drones, 3d printer/cnc/robotics, self driving cars) to stabilize pricing.
This hybrid for profit/coop model forms a smooth progression from the present linear/extractive economy to the future of fully circular economy, then beyond to resource based P2P democratic model, by including and elevating all farmers to consumers under a single umbrella, in an increasingly rare win-win-win for the foreseeable future.
Along the way it will hopefully serve as a rich test bed and prototype for others pursuing similar approaches, e.g. block chain backed micro-share and voting rights.
SUMMARY
" I got home, popped the tanzanian open, and gave it a sip cold out of the packet. The caffeine does hit faster, and I really enjoyed the flavors. "
I hope I've demonstrated how OMGespresso's unique approaches can solve big (100million pounds of landfill waste) problems in huge (Trillion dollar and growing) globally loved and growing industry of coffee/espresso.
By the collection of round trip mailable ecopackets, novel roasting and brewing of semi-shelf stable concentrates, we get a seven generation sustainable solution to the area of coffee and spices.
A solution where farmers and consumers both win a better quality of coffee at significantly less hassle than conventionally exists today, and restorative over time, builds a brighter future for all to look forward too, starting today.
Please support us if you can, by ordering some of our delicious coffee on Etsy.