The first iteration of the Caregiver Smile Summit launched on October 30, 2017 and is live on the Internet. It is based on a one-time, all access fee. We plan to change it following the models suggested above.
Mission
We want people to rock their caregiver experience (like the ladies below), turning it from a burden to an opportunity, from surviving to thriving. Just that change in mindset goes a long way in helping a caregiver through the journey, one where they can savor the moments with a loved one.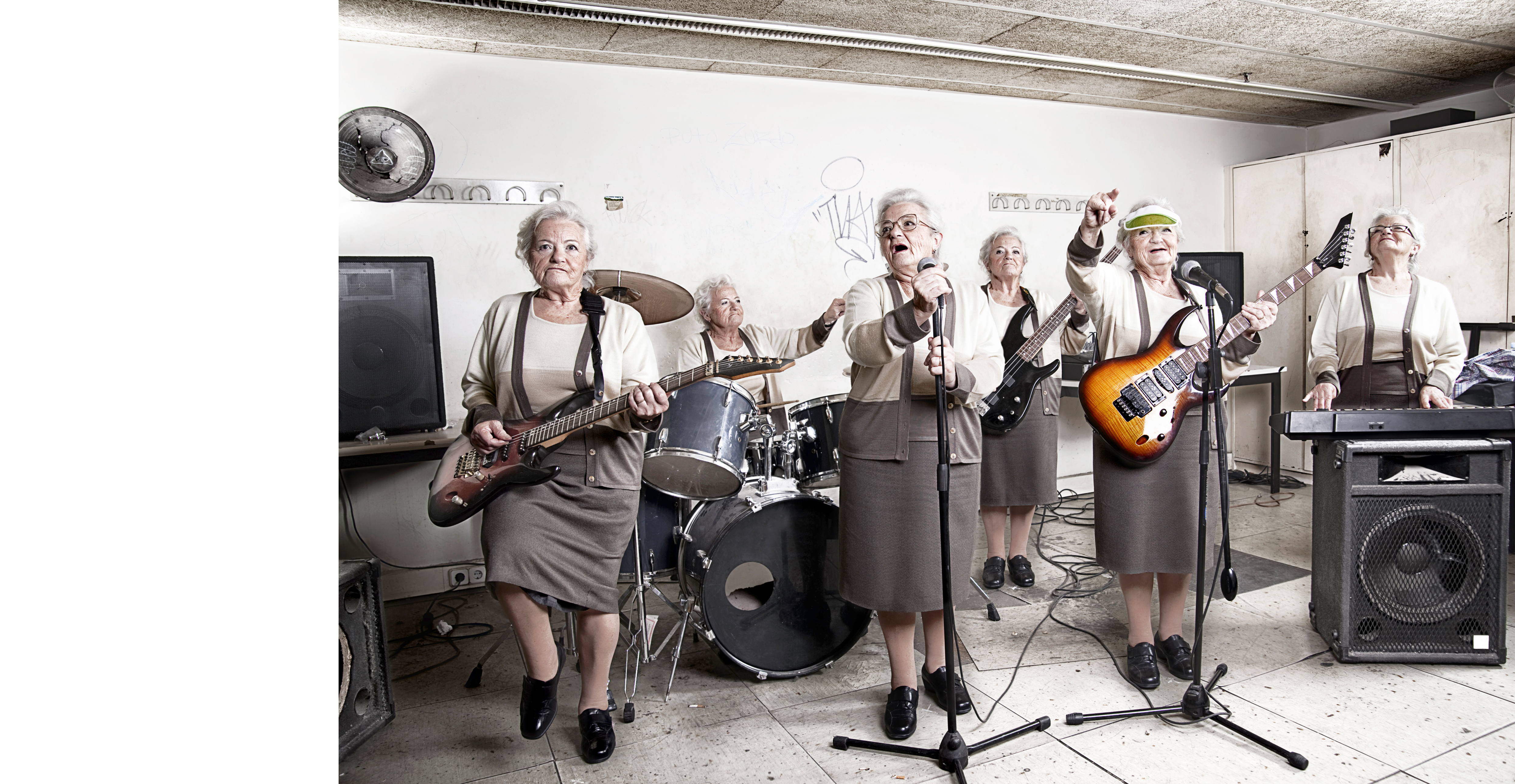 Virtual Summits
Virtual summits are an emerging trend in content delivery. They consist of recorded interviews with top experts in the field that viewers opt-in to watch and which provide excellent information and activities for responsive caregiving.
Virtual Summits happen once or twice a year when our top experts come together to update content or present new topics. This ensures that our content is always current and improving to lift the caregiver experience. All videos deliver rich content, provide holistic action plans and tips for dementia patient care. At the same time, we show family caregivers how to manage themselves, stay fit, engage socially and grow with their roles.
The Benefit - Short, easy to digest videos that become a baseline primer for education around caregiving.
Choosing the Topics
For the initial Summit, we took a holistic approach to the topics that caregivers wanted to know about and didn't categorize according to age-related decline or cognitive challenges but did organize from the least acute level - aging in place - to the most acute - hospice, death and dying.
We also designed the topics so that both the caregiver and the loved one would benefit. We are helping two audiences.
We will be adding to the current collection of 53 videos with more how-to videos as well as coaching people through troubling moments. They will provide: orientation, preparation, practical and emotional training, monitoring and response protocols, opportunities for respite and ways to spend more meaningful time with a loved one.
We have laid out six groups of deliverables in our user scenarios below.
Find the Caregiver Smile Summit 1st Iteration Topics Here.
Future Iterations
When you review the "Design Innovation Model, Experience Maps" below, you will see that we are suggesting an algorithm-based selection process whereby the consumer puts information about their current situation. Based on that input, we provide them a set of videos for a one-time fee (supported by corporate sponsors) in these areas:
General Information, Skill Share, Self Care, Fun, Navigating the Health System, Workplace Issues, Housing Issues, Family Dynamics, Financial/Legal, End of Life, After Caregiving.
A consumer has the option to then buy a monthly membership plan. (Though the bigger revenue win is offering the Summit as an Employeee Assistance Program benefit on a per member, per month basis.)
Future topics, updated versions of expert video, activities, reports for science will be made available to yearly subscribers. We also envision being able to take all of the short-listed challenge ideas and create relevant videos that speak to their offerings. For example, the videos from Dance4Healing would make great content on the platform. Also the ideas presented from - Smart Brain Games, Conversation Game, Memory Lane, Memory Music Box, Meaningful Connection through Creative Engagement - all could enjoy exposure through our Summit. We could also work with Partners in Memory to turn written life stories into video stories. And "Prompt by Merica" could offer our videos as a just in time, on-demand solution.
While we would still use the current interview format, we also desire to add more how-to material that helps build skills.
An idea that surfaced in the first phase of the challenge is allowing caregivers to propose topics and then we find the expert to fill it or we create something new. That will keep the Summit fresh and relevant. A newly introduced private Facebook group could facilitate this.
The Experts
Because of my own personal network as an influencer in aging, it was fairly easy to find experts. When an expert was not readily identified, we simply searched for the best, reached out and asked. They were gracious to accept.
Here are just some of the talented people who participated.
From the top - Nora Super, Chief, Programs & Services, National Association of Area Agencies on Aging; Executive Director of most recent White House Conference on Aging.
Bob Blancato, National Coordinator Elder Justice Coalition; Executive Director National Association of Nutrition and Aging Services Programs
Amy Goyer, Family and Caregiving Expert AARP; Author of "Juggling Life, Work and Caregiving"
Teepa Snow, Today's Voice for Dementia; Developer of the GEMS® Dementia Classification Model & the Positive Approach® to Care Training Strategies
Dr. Mary Furlong, founder and producer Whats Next Boomer Summit, Silicon Valley Boomer Venture Summit 2003- 2018
Our Summit includes five current and past Next Avenue Influencers in Aging. Find all of our experts here. As the Summit became more widely known, other experts presented themselves to us. While we had no further room at the initial Summit, we will look for ways to include their contributions when we extend our product range and perhaps provide some regional or even community support with Smile events throught the year. These could be lived-streamed and support overall Summit Initiatives.
The Audience + Value Added Proposition
Individual Market
Caregiver in Crisis - Mom Just Fell
The Millennial Caregiver - 25% of Caregivers
The Emerging Caregiver - Just Starting to See the Signs
The Boomer and After Caregiver - Lessons for Yourself
Value Proposition: Low cost education on a variety of topics that will help you prepare for aging and caregiving. Service matching is done by user managed profile and a survey tool. The basic service package of $59.95 (one time basis) is a fully scaleable/low cost front end solution that provides potential corporate sponsors (like AARP and United) valuable data for marketing and product/service development.
Subscribers get access to their plan immediately upon payment of their subscription. Upgrade opportunities are presented based on user input. An upgrade to a $119.99 per month is presented with a yearly option to be formatted.
Health Insurers Providers, Agencies, Government
Value Proposition: New caregivers are typically healthy middle-age paying customers when they begin but this changes quickly as they must compromise their work-life balance and dedicate themselves to the caregiver experience.
Statistics show that after their second year as primary caregivers their health is at higher risk, taxing health systems. Statistics vary but one thing is certain-a significant number of caregivers pre-decease their love one. This number ranges from thirty percent of caregivers to seventy percent of caregivers over seventy.
Early information and support of caregivers to manage their own health and fitness is of primary concern in the coming years, especially when economic pressures add even more to the need for two working adults in families and high costs of care facilities for dementia patients.
The Summit helps manage unpaid caregiver health. When you give a caregiver information to better manage their life, you reduce stress and disease. This reduces health costs. Provide as a member benefit to reduce costs and increased retention.
Health Providers
Value Proposition: Providers need help engaging caregivers whose input is vital to quality and safety. The next iteration can be a bridge to reach caregivers. Better care. Fewer re-admissions. Better PR. Use at discharge planning.
Employers with Caregivers in Workforce
Value Proposition: Sixty percent of caregivers are in the workforce. Offer the Summit as a value-added benefit to boost morale and increase retention.
For the business market noted above, the Summit along with our other submitted idea - Caregiver Video Support Program - could be a great combination.
How Does It Work / Revenue Stream
Now - It is a simple Woo Commerce purchase. Go to the web site. Select. Pay via credit card or PayPal and instantly access the videos.
How It Could Work - On a consumer basis, we offer one tier of free content supported by corporate sponsors. They can then buy into a monthly membership with an annual subscription discount.
For business, insurers, health providers, EAP programs, we license it on a per member per month basis to the audiences noted providing feedback loops, audience surveys, and fresh content updated monthly.
Design Innovation Model / User Journeys / Business Models - please click through
Prototype - email me (anthonycirillojr@gmail.com) for free registration link. Please keep private.
Metrics
We noticed from user metrics of our online videos from the first Smile Summit that users enjoy our holistic approach and chose videos by title and/or expert than by progressive development of dementia.
We carry the videos privately on Vimeo. Vimeo released a report that indicated in the month of November, the first full month of the Summit, our videos were viewed 8,500 times. With 53 videos, that is an average of 160 views per video. With just under 100 attendees, videos were viewed an average of 1.6 times. That indicates that they were of enough value that people wanted to go back and access them.
Feedback
A document has been created capturing the feedback from experts and attendees. In certain cases we link to Zoom videos of the feedback session.